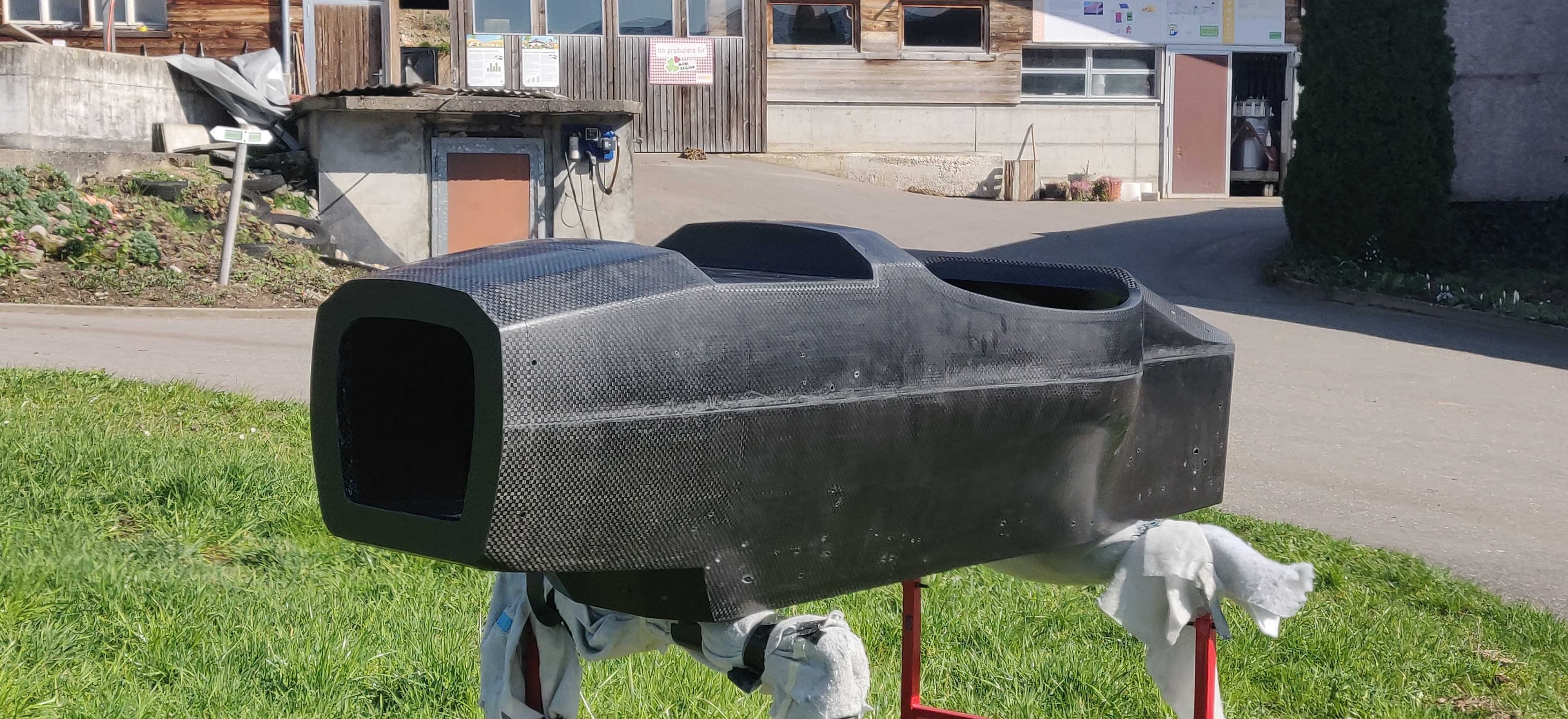 «alvier» - Manufacturing
Posted 26 June, 2023
«alvier» - Manufacturing
The show must go on! In spite of COVID19 the work on ALVIER continues. With reduced extend and special measures to ensure social distancing and compliance with the current guidelines from the government.
Manufacturing
After completion of the design phase all of our modules started manufacturing at the beginning of January. For some this consists of discussion and coordination of the proceedings and details of their parts with our partners. While others started laying on their own hands with the manufacturing of various carbon fibre parts. Leading those efforts was the monocoque, alvier's largest and most elaborate single part.
Furthermore, the manufacturing of parts at our various partners needs to be coordinated with great attentiveness to ensure the availability of workpieces on time, to combat delivery bottlenecks and to deploy minor constructive adjustments if necessary. This is only possible due to close cooperation with our partners.
COVID-19 Measurements at AMZ
COVID-19 Measurements at AMZ Due to the extraordinary circumstances we are taking measurements to contain the spread of the COVID-19 virus. We are acting in accordance with the guidelines of the Swiss federal council and ETH Zurich. All active association members are working from home until further notice. Particular sub-constructions have been moved into private workshops, where they are assembled and tested. Social Distancing measurements are complied with every step of the way. The assembly of the chassis has been put on halt.
Acknowledgment and things to come
We would like to seize this opportunity to express our appreciation of the continued support of our sponsors. During these difficult times we are fortunate to keep our ultimate goal of building a one of a kind race car in sight and you make this possible. We apologize that we cannot give more detailed information regarding the general outlook. We will announce updates in the course of the following weeks. We wish you, your family and your colleagues health and perseverance.
You can read all about what else happened during the last couple of months and which challenges we expect to face in the following weeks in our newsletter.